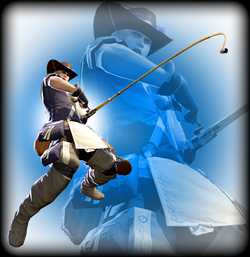 Fishers are the harvesters of the realm's marine and freshwater animal resources.
The trade rose to prominence in the nation of Limsa Lominsa, owing to the plentiful waters upon and around Vylbrand island. Be it from the shore of a sea, the bank of a river, or the deck of a boat, Eorzea's anglers must constantly account for a wide range of factors to optimize their success, including season, time, place, tools, and bait.
To obtain the ability to fish, visit the Fishers Guild in Limsa Lominsa Lower Decks. Fishing is the fastest discipline to level among the Disciplines of the Land. As a general rule, it is a good idea to upgrade clothing, and fishing pole about every five levels. Jewelry to increase GP is not useful with fishing.
Uniquely, the fisher does not rely on GP, only perception and gathering while fishing. As with mining and botany, gathering increases the percentage to land the fish, while perception increases the chance that the fish will be HQ (high quality). Unlike the other gathering professions, there is no visual display of the percentage for the fisher.
External links
Edit
Community content is available under
CC-BY-SA
unless otherwise noted.