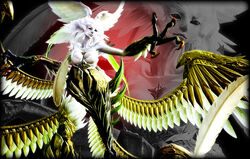 The queen of storms, Garuda is the chosen primal of the Ixal.
Though elegant of form and graceful in motion, the capricious and ruthless nature of this bloodthirsty being engenders mindless terror even amongst her devoted worshippers. Her wrath often erupts without warning, and descends upon her victims with unbridled fury.
External links
Edit
Community content is available under
CC-BY-SA
unless otherwise noted.