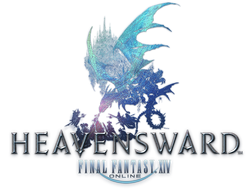 Final Fantasy XIV: Heavensward is the first expansion pack of Final Fantasy XIV: A Realm Reborn, announced at the 2014 Fan Fest in Las Vegas. Originally set for a Spring 2015 release, the expansion was delayed to early summer 2015. A Mac version will be available the same day as Microsoft Windows and PlayStation 4 versions, making it the first Final Fantasy title on Apple's personal computer.
Ishgard will be the main location of the storyline. Heavensward will expand the playable area of the game into additional parts of Eorzea, beyond the Coerthas Central Highlands and into the skies above the Sea of Clouds and the floating landmasses therein. Dravania and "other beast-tribe ruled" domains will be added.
The Holy See of Ishgard opens its gates to adventurers. The main storyline of the expansion pack deals with the Dragonsong War, a thousand-year conflict between Ishgard and Dravania, the home of the dragon beast tribe, which is also available to be explored. Free Companies can craft airships and use them to discover floating continents above the clouds. The level cap is increased to 60.
Community content is available under
CC-BY-SA
unless otherwise noted.