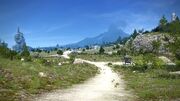 La Noscea is a region in Final Fantasy XIV in the realm of Hydaelyn, on the sub-continent of Vylbrand, and on the continent of Eorzea. It is home to the City-state of Limsa Lominsa. La Noscea is a beautiful area, containing wild, rocky landscape rife with hills and plateaus. The region contains the dungeon areas of Cassiopeia Hollow, Mistbeard Cove, and Shposhae.
Community content is available under
CC-BY-SA
unless otherwise noted.