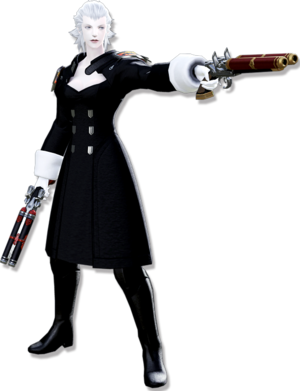 | | | |
| --- | --- | --- |
| " | Victory is a far-flung shore. Mark the skies, abide the tides, trust to your crew—and she will be yours. | " |
Chief Admiral Merlwyb Bloefhiswyn is the current leader of Limsa Lominsa. A former pirate of high standing, Bloefhiswyn imposed strict regulations on piracy in the region when she became its ruler. She reinstated The Maelstrom and serves as its chief commanding officer.[1]
Bloefhiswyn had an impressive list of achievements prior to becoming Admiral. She discovered a safe route across the Indigo Deep that allows for transportation to the western continent, and she led the sinking of an "invincible fleet" dispatched by the northern nations beyond the Bloodbrine Sea.[1]
Bloefhiswyn wields two muskets—Death Penalty and Annihilator—which are rumored to have once been wielded by an infamous pirate king known as Mistbeard.[1]
Motto: Impossible is a word coined by the weak.
References
Edit
Community content is available under
CC-BY-SA
unless otherwise noted.