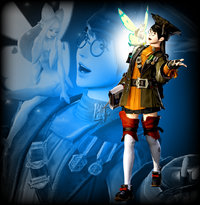 In an age long past, when mankind flourished under the radiance of arcane mastery, the island of Vylbrand was home to a city-state called Nym. Though the history of that age tells of countless wars waged with earth-shattering incantations, it was the brilliant strategic maneuvering of Nym's scholars that allowed their mundane army of mariners to throw back would-be conquerers time and again. These learned men and women defended the freedom of their tiny nation with their unique command over spell-weaving faeries, utilizing the creatures' magicks to heal the wounded and bolster the strength of their allies.
External links
Edit
Community content is available under
CC-BY-SA
unless otherwise noted.