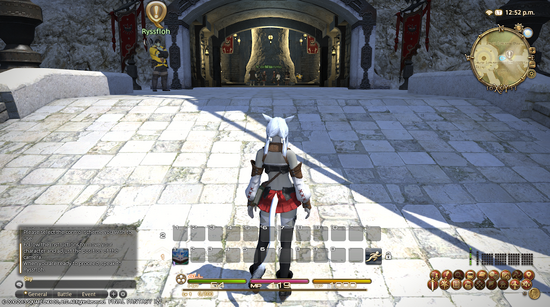 Bottom left
Edit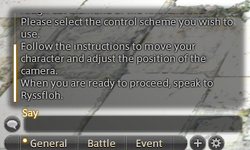 Here you will find your log tabs. Default are the General, Battle, and Event (cutscene dialogue, etc.) tabs. There is also a "+" where you can add new tabs and a configuration button.
Bottom center
Edit

Two rows of actions bars are available by default. These can be locked. Below the action bars are where players can instantly view their Health, Mana, and TP.
Below this is shown the experience bar, player level, and needed experience until next level.
Bottom right
Edit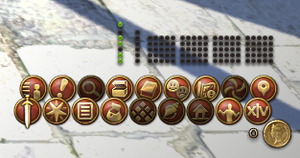 First is the short cut to the Character panel, where players can view their attributes, profile (title/name/race/clan/gender/city-state/nameday/guardian), classes on the server, and amount of currency. These all have their own tabs.
On the right side of the character panel is the paper doll, where players can view their level, class, weapons, gear, and other associated items.
The other three options open each tab of the inventory interface where all the character's collected items are stored.
Character: see first option above.
Journal: opens up the quest journal. Here players can view their current and complete quests. Players may have up to 30 quests and 16 levequests at a time.
Duty Finder
Personal Logs: allows you to view hunting, crafting, gathering, and fishing logs, as well as achievements.
Social Lists: here you can view party members, friends list (max 200), blacklist (max 200), and search for players
Map: opens the map with the following options: display the region/world maps, center map on their location, adjust map transparency, show/hide text, and zoom
Teleport
Signs: opens up a mob marking system
Stance: change stance from idle to combat
Actions & Traits: functions as an ability book, where players can view general abilities, actions, traits, job, pet commands, mounts, minions, companions, and main commands.
Duty: select timers or recommendations
Inventory: four tabs with 100 slots each, plus tab for elemental shards, crystals, and clusters, and final tab for key items
Free Company
Linkshells
Return
Emotes
System Menu
Below these you will find your current total of gil.
Top right
Edit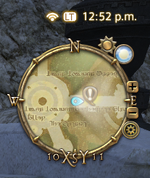 Here you will find the mini map with the ability to zoom and also unlock the compass. Sending and receiving info is displayed as well as local time.