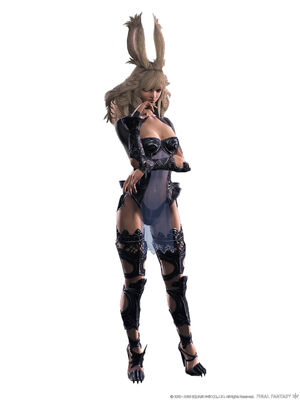 The Viera are a race introduced in Final Fantasy XIV: Shadowbringers. In The First, they are known as Viis.
Background
[
]
Of tall stature and slender frame, the Viera's physical appearance is strikingly similar to that of the Hyur and Elezen, save for their distinctive long ears. Adhering to a strict code known as the Green Word, they are prohibited from contact with the outside world under threat of exile. Their society is purely matriarchal, and males of age are seldom, if ever, found within the bounds of any village. They instead serve as protectors of the wood from the shadows, that no evil may ever encroach on their sacred lands.
Clans
[
]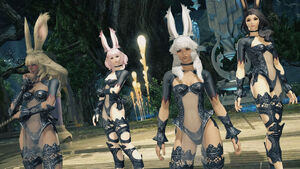 Rava
[
]
Viera of the Rava clan live primarily in the Golmore Jungle, their umber skin allowing them to readily blend in with their surroundings. Though the males stand as wards of the forest, the females are adept hunters in their own right, fiercely guarding their homes and their young. Despite attempts by the Dalmascans to subjugate them, they have ever maintained a self-governing dominion. Though most would adhere to the traditions of the wood, some few have chosen to venture out into the world.
Veena
[
]
With skin as fair as the snowcapped mountains towering above, the Veena clan make their homes in the forests lining the southwestern foothills of the Skatay Range. Like the members of their sister clan, the Veena live as hunters and gatherers, laboring not only to protect the woods, but to nurture them. As the winds of war swept up a number of those who left their mountain homes, many such hardened hunters chose to set out for the distant shores of Eorzea.
Starting attributes
[
]
| Attribute | Rava | Veena |
| --- | --- | --- |
| Strength | 20 | 19 |
| Dexterity | 23 | 20 |
| Vitality | 18 | 19 |
| Intelligence | 21 | 23 |
| Mind | 21 | 22 |
Gallery
[
]
Videos
[
]